A brain aneurysm is a potentially life-threatening condition that requires immediate medical attention. It occurs when a weak or thin spot develops in the wall of a blood vessel within the brain, causing it to balloon or bulge out.
If left untreated, a brain aneurysm can rupture, leading to a severe form of stroke known as a subarachnoid hemorrhage.
Dr Raveesh Sunkara, a distinguished neurosurgeon in Hyderabad with over seven years of experience, has dedicated his professional career to the intricate field of neurosurgery, specializing in brain and spine disorders.
Moreover, Dr Raveesh Sunkara, one of the best neurosurgeon in Hyderabad, has treated many ruptured and unruptured aneurysms patients.
Dr. Raveesh Sunkara offers open and endovascular options for treating aneurysms.
Choosing between both options is the most critical step for successful treatment, and Dr Raveesh can assist in making the right choice.
This blog explores the details of brain aneurysms, their causes, symptoms, and treatment options.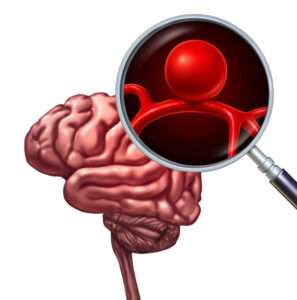 What is Brain Aneurysm?
Migraine triggers can vary significantly from person to person. However, some commonly reported triggers are worth considering:
A bulging or ballooning in a blood vessel in the brain is known as a brain aneurysm. It resembles a fruit on a stem in appearance.
Brain haemorrhage (hemorrhagic stroke) can occur due to a rupture or leak in the brain aneurysm. The most common location for a ruptured brain aneurysm is the area between the brain and the thin tissues that cover it.
Types of Brain Aneurysms
A brain aneurysm can be broadly classified into three categories:
Ruptured Aneurysm
A ruptured brain aneurysm occurs when the weak spot in the blood vessel wall bursts. It causes bleeding into the surrounding area of the brain. This is a medical emergency that requires immediate attention.
Leaking Aneurysm
Some aneurysms may not rupture completely but develop a small leak or bleed. This condition is referred to as a leaking aneurysm. While the bleeding may be minimal, it still poses a risk.
Unruptured Aneurysm
An unruptured brain aneurysm has not burst or leaked. It is often discovered during diagnostic imaging tests for other unrelated conditions. Unruptured aneurysms typically do not cause symptoms. However, their presence poses a risk, as they may grow in size or rupture over time.
When to Seek Medical Advice?
It is crucial to seek medical attention promptly if the patient experiences any of the following symptoms or situations related to brain aneurysms:
Sudden, severe headache
Loss of consciousness or fainting
Blurred or double vision
A sudden decrease in vision or other visual disturbances
Neck pain and stiffness
Nausea and vomiting accompanied by light sensitivity
Causes of Brain Aneurysms
Brain aneurysms can develop due to various factors, although the exact cause is often unknown. Some common factors that contribute to their formation include:
Weak arterial walls: Aneurysms may form due to inherent weaknesses in the walls of the blood vessels, making them more susceptible to bulging and rupture.
High blood pressure: Hypertension can strain the blood vessel walls excessively, increasing the risk of an aneurysm.
Smoking: Regular smoking damages blood vessels and weakens their walls, elevating the chances of an aneurysm.
Family history: A family history of brain aneurysms significantly increases the risk of developing one.
Age and gender: Aneurysms are more common in individuals over 40 and slightly more prevalent in women than men.
Symptoms of Brain Aneurysms
Brain aneurysms often remain asymptomatic and are discovered incidentally during diagnostic imaging tests. However, when symptoms do occur, they can include:
Severe headaches: Sudden and intense headaches, often described as the worst headache of life, can indicate a ruptured aneurysm.
Vision problems: Blurred or double vision or a sudden decrease in vision can occur due to an aneurysm pressing on the optic nerve.
Neck pain and stiffness: Aneurysms in specific brain areas can cause neck pain and stiffness.
Loss of consciousness: A sudden loss of consciousness or fainting may indicate a ruptured aneurysm. It requires immediate medical attention.
Nausea and vomiting: Unexplained nausea and vomiting, sometimes accompanied by sensitivity to light, can be a sign of an aneurysm.
Diagnosis of Brain Aneurysms
Imaging Tests
The neurosurgeon may order diagnostic imaging tests such as a CT scan, MRI, or cerebral angiography to visualize and locate the aneurysm.
Neurological Examination
A thorough examination of neurological symptoms and functions helps assess the impact of the aneurysm on the brain.
Lumbar puncture
It involves collecting a sample of cerebrospinal fluid through a needle inserted into the lower back. It can help confirm the presence of a subarachnoid hemorrhage caused by a ruptured aneurysm.
Family History Assessment
Evaluating the patient's family history can help identify any genetic predisposition to aneurysms.
Genetic testing
In cases with a family history of aneurysms, doctors often recommend genetic testing to determine if an underlying genetic condition increases the risk of aneurysm formation.
It is essential to consult a medical professional, such as a neurosurgeon, for an accurate diagnosis and appropriate treatment plan.
Treatment Options for Brain Aneurysm
"After confirming the brain aneurysm diagnosis, prompt treatment is crucial to prevent rupture and minimize potential complications, says Dr Raveesh Sunkara."
The treatment options may include:
Observation
The neurosurgeon may closely monitor small, unruptured aneurysms through regular imaging tests to detect any changes in size or shape.
Endovascular coiling
In this minimally invasive procedure, the neurosurgeon inserts a catheter through the blood vessels to the aneurysm site. Then, the surgeon places small platinum coils to promote blood clotting and prevent rupture.
Surgical clipping
During this procedure, neurosurgeons perform a craniotomy to place a metal clip around the neck of the aneurysm, cutting off its blood supply and preventing rupture.
Flow diversion
In complex cases, surgeons may place a stent-like device called a flow diverter across the aneurysm's neck to redirect blood flow and promote healing.
Conclusion
Brain aneurysms are a serious health concern that requires immediate attention and specialized care. Understanding the causes, recognizing the symptoms, and seeking appropriate treatment are crucial steps in managing this condition effectively.
With the expertise and experience of neurosurgeons like Dr Raveesh Sunkara, one of the top neurosurgeon in Hyderabad, patients can receive the necessary care and guidance to overcome the challenges associated with brain aneurysms.